Publication Date: May 16, 2015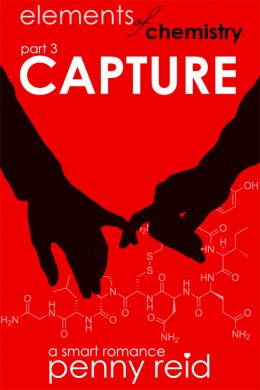 Elements of Chemistry: CAPTURE is the third part in a three part series; it is 70k words. Part 1 (ATTRACTION) will be released April 9, 2015. Part 2 (HEAT) will be released April 30, 2015. Part 3 (CAPTURE) will be released May 16, 2015.
My 5 Star Review
Capture
is the third and final installment in the
Elements of Chemistry Series.
I have thoroughly enjoyed this series and cannot even begin to express how much I looked forward to each installment. I know I have said it a 100 times, but Penny's writing is beautifully unique. Her ability to create characters that are lovably imperfect continues to amaze me.
When this installment begins Parker and Martin are still not together. The story continues and covers months at a time where they are a part. This was a hard pill for me to sallow, I am impatient and I like my couples together! It was so hard for me to allow the story to unfold naturally when I knew these two completed each other.
He became my compass, my beacon. And before him, I'd been a girl desperately trying to follow the footsteps of expectations even though the shoes didn't fit.
In all seriousness these characters belonged together. The way Penny creates and develops her characters it feels like you know them. Since I know and I am expert on all things Parker and Martin I needed them together. For that same reason, it is why I know this story had to unfold in the way it did. When you first meet Parker she appears to have it all together, but as the series has progressed it has become clear this growing time is needed. As crazy as it sounds it took me days to come to this realization.
Despite the ups and downs and my feelings of anxiety, it was all overshadowed by the happiness I felt in the end. I remember just having a huge smile on my face, despite any real life drama and that's what reading is all about, escaping. As always Ms. Reid you slayed it!
I absolutely, positively recommend this series!
I don't want a beautiful week with you. I want a beautiful lifetime.
About Penny Reid
SEX! It all started with sex, between my parents. Personally I don't like thinking about it, but whatever works for you is a-ok with me. No judgment. The sex happened in California and much of my life also occurred in that state until I moved from the land of nuts (almonds), wine, silicon… boobs, and heavy traffic to the southeast US. Like most writers I like to write, but let's get back to sex. Eventually I married and gave birth to 2 small people-children (boy-6, girl-4 as of this writing). By day I'm a biomedical researcher with focus on rare diseases. By night I'm a knitter, sewer, lino block carver, fabric printer, soap maker, and general crafter. By the wee hours of the morning or when I'm intoxicated I love to listen to the voices in my head and let them tell me stories. I hope you enjoy their stories.