Attraction
Publication Date:
April 9, 2015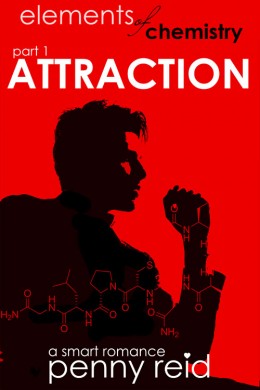 Elements of Chemistry: ATTRACTION is the first part in a three part series; it is 45k words; and it ends with a cliffhanger.
Part 1 (ATTRACTION) will be released April 9, 2015
Part 2 (HEAT) will be released April 30, 2015.
Part 3 (CAPTURE) will be released May 16, 2015.
One week.
Private beach.
Invisible girl.
Jerk-faced bully.
What's the worst that could happen?
Kaitlyn Parker has no problem being the invisible girl, which is why she finds herself hiding in various cabinets and closets all over her college campus. Despite her best efforts, she can't escape the notice of Martin Sandeke—bad boy, jerkface bully, and the universe's hottest, wealthiest, and most unobtainable bachelor—who also happens to be Kaitlyn's chemistry lab partner.
Kaitlyn might be the only girl who isn't interested in exploiting his stunning rower's build, chiseled features, and family's billionaire fortune. Kaitlyn wants Martin for his brain, specifically to tabulate findings of trace elements in surface water.
When Kaitlyn saves Martin from a nefarious plot, Martin uses the opportunity to push Kaitlyn out of her comfort zone: spring break, one week, house parties, bathing suits, and suntan lotion. Can she overcome her aversion to being noticed? Will he be able grow beyond his self-centered nature? Or, despite their obvious chemistry, will Martin be the one to drive Kaitlyn into the science cabinet of obscurity for good?
SEX! It all started with sex, between my parents. Personally I don't like thinking about it, but whatever works for you is a-ok with me. No judgment. The sex happened in California and much of my life also occurred in that state until I moved from the land of nuts (almonds), wine, silicon… boobs, and heavy traffic to the southeast US. Like most writers I like to write, but let's get back to sex. Eventually I married and gave birth to 2 small people-children (boy-6, girl-4 as of this writing).
By day I'm a biomedical researcher with focus on rare diseases. By night I'm a knitter, sewer, lino block carver, fabric printer, soap maker, and general crafter. By the wee hours of the morning or when I'm intoxicated I love to listen to the voices in my head and let them tell me stories. I hope you enjoy their stories.
My 5 Star Review
Elements of Chemistry
continues to capture me and leave me begging for more. This series has Penny's signature wit and intelligence, but also offers a level of heat and chemistry that is unexpected, but super enjoyable.
The first installment ended with a misunderstanding between Parker and Martin. So many times in books we are stuck in this land of misunderstandings and wasted time, I am so happy to report that Penny didn't waste anytime.
I absolutely love how Penny has things progressively moving forward. This installment is definitely my favorite. Martin is fantastic hero, he is crazy driven, but he also has this unbelievable desire to help Parker. Parker is smart, beautiful and talented, but has a low such a low self-esteem. Her family is famous for their brilliancy, so she has always felt inadequate by comparison. Martin sees value in Parker and desires for her to see it too.
No. I want all of this to matter. I want it to last.
Martin is used to everyone wanting something from him, Parker is the first person to just want him. Parker is selfless and honest with Martin. There are moments I wish she was less honest, but that isn't her character. She is brutally honest, but it also shows the sincerity in her actions and words
I am so excited where things are going. I love a romantic, sexy story, but there is also this huge element mystery and suspense. I was dreading this cliffy after talking with my friends and I won't lie it was rough. The main reason is because I am addicted to these characters and can't wait to see where things are going.